About the Owners
Aaron and Sean have had unique paths on their journey through fitness. They have grown in the fitness community as well as the sport of olympic weightlifting under different mentors, with different coaching styles. That diversity has led to creating a unique and effective balance inside their own gym. Both coaches lean heavily on being technically sound and help members understand the movements as they pertain to the overall goal. Members would describe Aaron as having that "island vibe" with a more relaxed style whereas Sean has that "country vibe" with a more stern approach. Both set high expectations for their athletes and the combination of their styles lend well to one another, encouraging members to be versatile and coachable.
Each of them truly live out their desire to help others grow to be the best version of themselves and seek, on their own, to refine their own practice and style. It's not uncommon to hear them laughing from across the gym or see them sitting amongst the members asking about their week. At the end of the day, they are two men holding the same passion, the same drive and the same commitment to a sport and doing so with humor and heart. They've cultivated a family atmosphere here at VICE, not just a gym.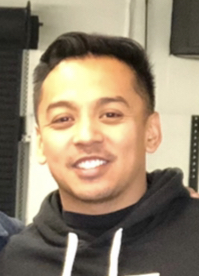 I love being in the gym! Like most, I spent my entire childhood and teens immersed in competitive sports; spent years of having my parents drive me to team practice/training daily. Then, my 20s came and hit me. I experienced the early life crisis of "adulting". I wasn't quite aware of my direction or passion in life at the time. I experiencing tough break-ups, felt myself getting "out of shape", but more importantly I lacked consistency in a daily routine that I was once accustomed to when I was in sports. I found myself wanting and needing to experience that same grind and sense of accomplishment after an hour of training hard and working out. Having found both Crossfit and Olympic Weightlifting, opening a gym was my answer!
I have found the gym to become not only a place of self-improvement, but also even a sanctuary and outlet from everyday life and stressors. The gym for me has grown into a community where I have been blessed to build relationships and fortunate to coach youth to collegiate students and athletes, doctors, teachers, lawyers, military/law enforcement, stay at home moms and dads, etc.
As a Coach and Gym Owner I am learning that everyone has their own specific reasons for joining a gym. It is my hope along with Sean's that people will find what they are looking for here, at VICE Performance Gym. An environment for self-improvement, an outlet and place to call home away from home, backed by a community that empowers you to grow and support your goals.
Self-improvement doesn't just end in the gym, which is why I have continued in my pursuit to become the best coach and gym owner that I can be.
Certifications/Education
USAW National Level Coach (superseding USAW Level 1 & Level 2 Sports Performance Coach)
Crossfit Level 2 Trainer (superseding CFL1)
Associates in Kinesiology, Mt. San Antonio College
Associates in Fire Science, Mt. San Antonio College
44th Basic Fire Academy, Mt. San Antonio College
CPR/First Aid/AED, American Heart Association
My entire life has always revolved around a competitive environment and sports. Growing up I was involved in travel baseball competition and traveled across the nation to play. I competed at the USA Baseball Junior Olympics in Arizona, Ca and also represented Team USA in Puerto Rico. In high school, I played at the varsity level since my freshman year. Alongside, being a part of the wrestling team for the last two years of high school competing on the Varsity level as well. I became a Crossfit coach at Walnut Crossfit after high school, where my fitness and weightlifting addiction was inherited and gave me a direction towards the path I wanted in college and my career.
Certifications/Education
Mount San Antonio College, Honor Roll
Mount San Antonio College, Kinesiology Associates
California State University Los Angeles, Honor Roll & Dean's list
California State University Los Angeles, Kinesiology Exercise Science
CPR/First Aid/AED Certified
NASM-CPT (Certified Personal Trainer)
NASM-CES (Corrective Exercise Specialist)
Crossfit Trainer Level 1
Crossfit Football
USA Weightlifting Club Coach/Director
USA Weightlifting Sports Performance Coach
*Currently pursuing CSCS